LEWIS BERNALDO DE QUIROS 6 DAN
MAY 4-5, IN LUND
Lunds Aikidoklubb welcomes all akidokas, irrespective of style or grade, to a spring seminar in Lund with Lewis Bernaldo de Quiros, 6 dan.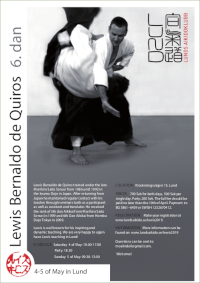 Lewis Bernaldo de Quiros trained under the late Morihiro Saito Sensei from 1986 until 1993 in the Iwama Dojo in Japan. After returning from Japan he maintained regular contact with his teacher through seminars both as a participant as well as assistant and translator. He received the rank of 5th dan Aikikai from Morihiro Saito Sensei in 1999 and 6th Dan Aikikai from Hombu Dojo Tokyo in 2009.
Lewis is the dojo cho of Tenshin Dojo, Motril Spain, as well as senior instructor of Takemusu Aikido Kyokai Nederland (TAKN). Lewis is well known for his inspiring and dynamic teaching. We are very happy to again have Lewis teaching in Lund!
SCHEDULE
Saturday, May 4:
10:00-17:00: Training (lunch included)
18:30: Party!
Sunday, May 5:
LOCATION
The training takes place at Klosterängsvägen 15 (Lunds Karate Kyokushinkai) in Lund.
ACCOMODATION
The dojo of Lunds Aikidoklubb is located centrally in Lund, at Winstrupsgatan 1, and is open for those who need somewhere to sleep, free of charge. No staying overnight can be done at Klosterängsvägen.
If you prefer to stay in a hotel or hostel, we recommend one of the following hotels/hostels that are close to the dojo and to Klosterängsvägen:
PRICES
The fee for the full seminar is SEK 700, or SEK 500 for one day of training.
The seminar is discounted for students thanks to a seminar from Skåneidrotten: SEK 500 for the whole seminar and SEK 400 for one day.
The full fee should be paid no later than April 10, to BG 5861-6459 or Swish 1232670412. Please state your name and "Lewis seminar 2019".
Guests from abroad pay at registration.
The party will be held Saturday evening in Lunds Aikidoklubb's dojo, for a cost of SEK 150.
REGISTRATION
Please register using the form below, no later than April 10.
You need to be fully insured to participate in the training.
ADDITIONAL INFORMATION
Questions can be sent to moalindell@gmail.com
Don't forget to bring bokken and jo!
Spare weapons can be lent to those who are travelling by plane, please inform us about this in you registration.
Welcome!