LUNDS AIKIDOKLUBB

Välkommen till Lunds Aikidoklubb. Vi har träning i egna lokaler på Winstrupsgatan 1 (innergården mellan Juridicum och Ihsiri) mitt i Lund. Kom gärna och hälsa på om du vill veta mer om aikido. Är du aktiv i en annan klubb? Välkommen att gästträna hos oss!
---
AKTUELLT
Barn och Ungdomsläger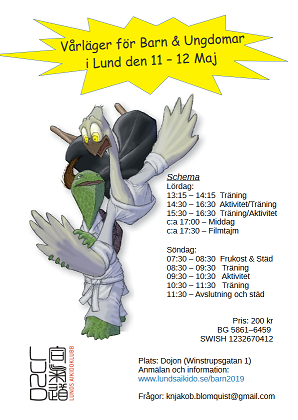 Dags för vårens barn och ungdomsläger! Lördagen och söndagen 11-12 maj kör vi vårt övernattningsläger, med träning, gästinstruktör, göra din egen Jo, skriva sitt namn på japanska, middag, uppvisning, filmtajm och mer. Anmäl era barn genom att fylla i formuläret här.
Lewis de Quiros, May 4-5
Lunds Aikidoklubb welcomes all akidokas, irrespective of style or grade, to a spring seminar in Lund with Lewis Bernaldo de Quiros, 6 dan.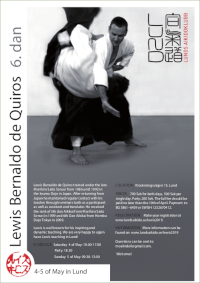 Lewis Bernaldo de Quiros trained under the late Morihiro Saito Sensei from 1986 until 1993 in the Iwama Dojo in Japan. After returning from Japan he maintained regular contact with his teacher through seminars both as a participant as well as assistant and translator. He received the rank of 5th dan Aikikai from Morihiro Saito Sensei in 1999 and 6th Dan Aikikai from Hombu Dojo Tokyo in 2009.
Find more information and sign up on our seminar page.
Nya Träningsavgifter / New Training Fees
För 2019 är en av de åtgärder som styrelsen beslutat införa som ett steg i att förbättra grundförutsättningarna för klubbens ekonomi att höja träningsavgifterna för samtliga medlemmar. Det ska tilläggas att en höjning av träningsavgifterna inte gjorts på många år medan hyran följt index och utgifterna för el och värme gått upp.
Träningsavgifter 2019:
Yrkesverksamma - 1400 kr/termin (vår/höst), 500 kr/sommar, 200 kr medlemsavgift/år
Studenter/arbetssökande - 1000 kr/termin (vår/höst), 400 kr/sommar, 200 kr medlemsavgifter/år
Barn och unga - 600 kr/termin (vår/höst) (500 kr för syskon), 100 kr medlemsavgift/år
---
For 2019, one of the measures that the board has decided to implement as a step towards improving the general financial basis for the club is to raise the training fees for all members. It should be noted that the fees have not been raised for many years while the rent has steadily increased as have the expenses for electricity and heating.
Training fees 2019:
Employed - 1400 kr/term (spring/fall), 500 kr/summer, 200 kr members' fee/year
Students/unemployed - 1000 kr/term (spring/fall) , 400 kr/sommar, 200 kr members' fee/year
Children & youth - 600 kr/term (spring/fall) (500 kr for siblings), 100 kr members' fee/year